Electric underfloor heating in the bathroom - options for new buildings and renovations
Comfortable warmth and a pleasant indoor climate
Underfloor heating in the bathroom always provides cosy warmth and a pleasant room climate without the presence of annoying radiators or other heating devices. Especially in small bathrooms, this also means a gain in space that should not be underestimated, as more wall space is left free.

Another advantage of (electric) underfloor heating is the large heating surface, which has a positive effect on the efficiency of the system and offers an opportunity to reduce heating costs. The total heating of the floor also eliminates air circulation, so that dust is no longer stirred up but remains on the floor. Not only allergy sufferers are happy about this.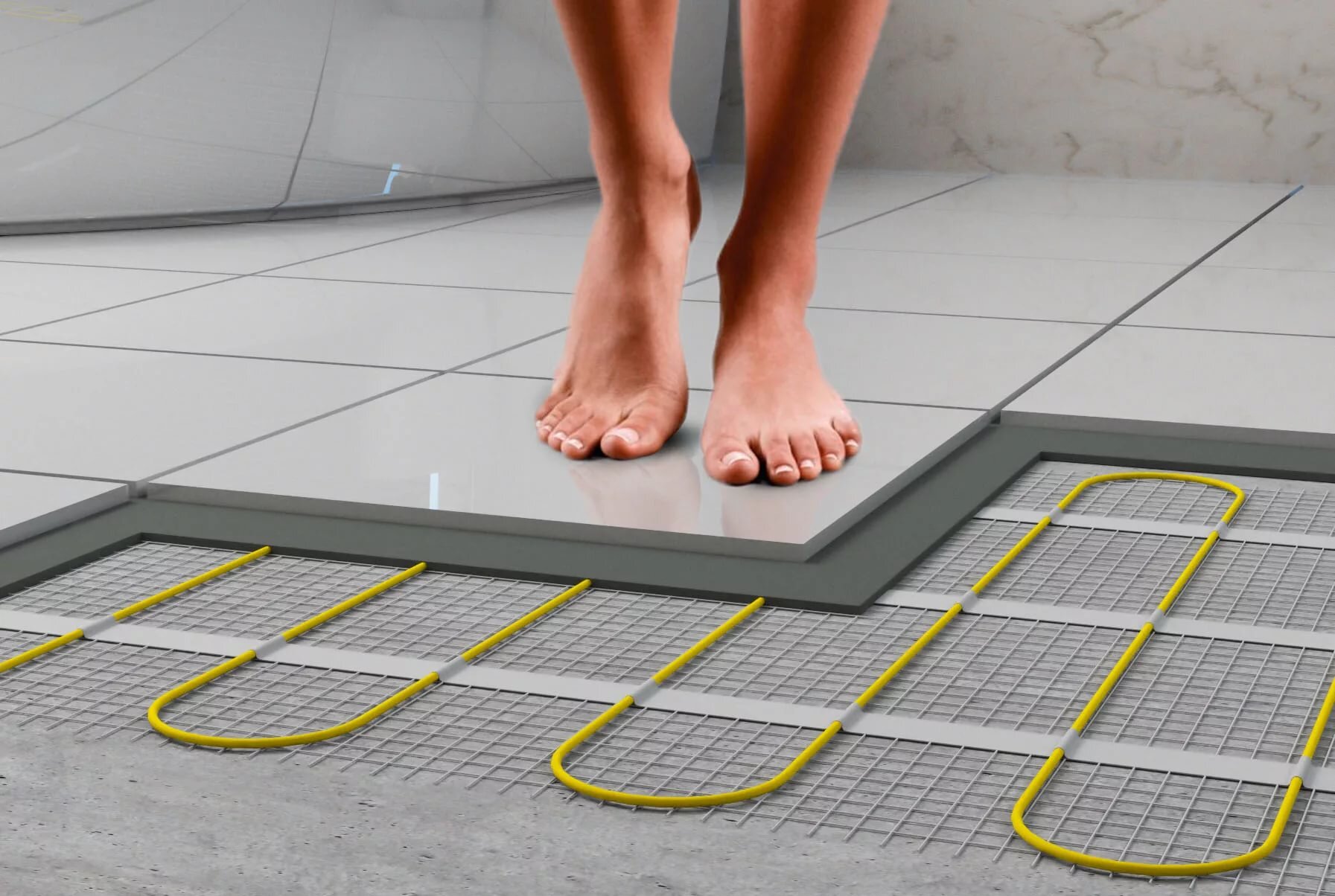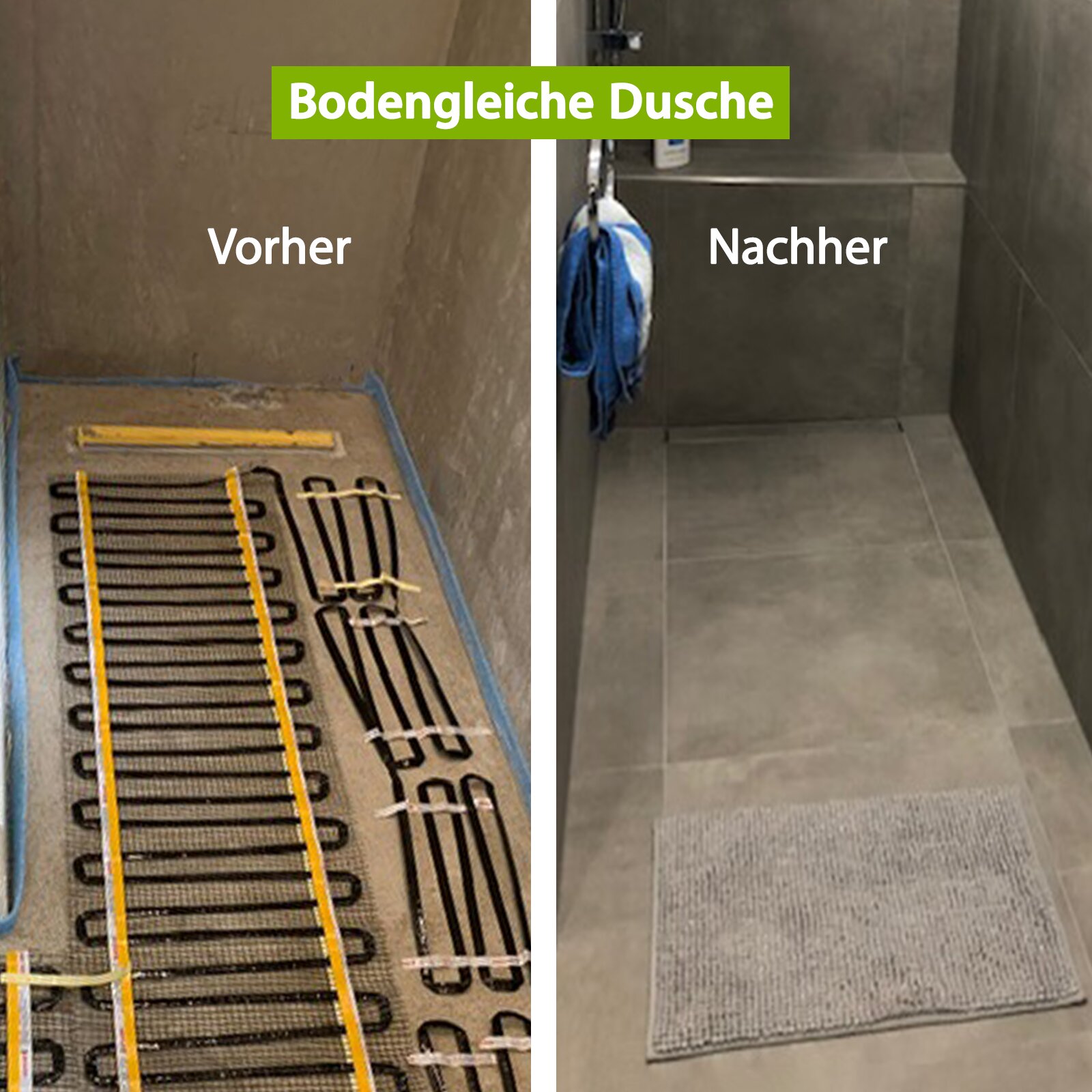 The trend towards walk-in showers with integrated heating
Walk-in showers, also known as floor-level showers, have been in vogue for quite some time. So it is not surprising that there is often also a desire for a heated floor area and the demand for this has grown steadily over the years. 

With water-guided underfloor heating systems, a "bow of the heating loop" through the shower is often included in the planning. However, in the case of electric underfloor heating, there is a persistent claim that this is not permissible in a shower. 

However, the DIN VDE 0100-701 standard stipulates that showers without a tub belong to protection area 1 and not to area 0. Thus, the use of heating cables and heating mats that achieve at least protection class IP X7 (protected against the consequences of immersion) is permissible. In addition, electrical equipment may be installed that is protected by extra-low voltage by means of SELV or PELV. This also allows the installation of heating foils as electrical underfloor heating if their operating voltage is up to max. 25V alternating voltage (AC) or up to max. 60V direct voltage (DC). Further details on these standards can also be found in our FAQ article.


Underfloor heating mats as all-rounders for different floor coverings
In addition to the available installation height (often the decisive criterion for renovations), the desired floor covering is decisive for the selection of the right heating element. If the installation height plays a subordinate role, a underfloor heating mat is the suitable all-rounder for almost all floor coverings. 

The heating mats are usually a twin heating cable, which is attached to a glass fibre fabric with a width of 50 cm. The heating mats can be rolled out on the existing subfloor in just a few steps. Once you have reached the opposite side of the room or a fixed object in the room, you simply cut the glass fibre fabric and fold the heating mat over, e.g. at a 90° or 180° angle, and lay it out further.  It is important not to shorten the heating mats! If a small piece is left over when laying out, it is advisable to separate the remaining heating conductor from the glass fibre fabric and let it run out in front of a wall, for example. When planning, a distance of approx. 15-30 cm to the free wall can always be included. Under furniture (e.g. cupboards), the distance to the wall can also be chosen larger, so that the heating element only starts in front of the piece of furniture.  

The heating capacity of underfloor heating mats is usually between 100 and 200 watts per square metre. Especially for the bathroom, we would recommend models from 150W/m² upwards, so that the preheating times are as short as possible and generally the perceived heat requirement in this room is somewhat higher. 

Standard models with a round heating conductor usually have installation heights between 4 and 6 mm. Heating mats with a so-called flat heating cable are somewhat thinner, usually 3-4 mm high. Particularly thin is the so-called Sticky Mat from the German manufacturer Warmup, which is only 2 mm high.

Depending on the desired floor covering, tile adhesive (for fine stoneware, ceramic tiles, marble) or self-levelling levelling compound (for floating or glued floor coverings such as vinyl or parquet) is then applied. The so-called overlap, i.e. the thickness of the applied material above the heating cable, should be at least 5 mm. This ensures the necessary strength of the floor even under high pressure loads.
Pro
+ Low purchase price
+ low installation effort
+ suitable for almost all floor coverings
Contra
- Required installation height of at least 7mm + Floor covering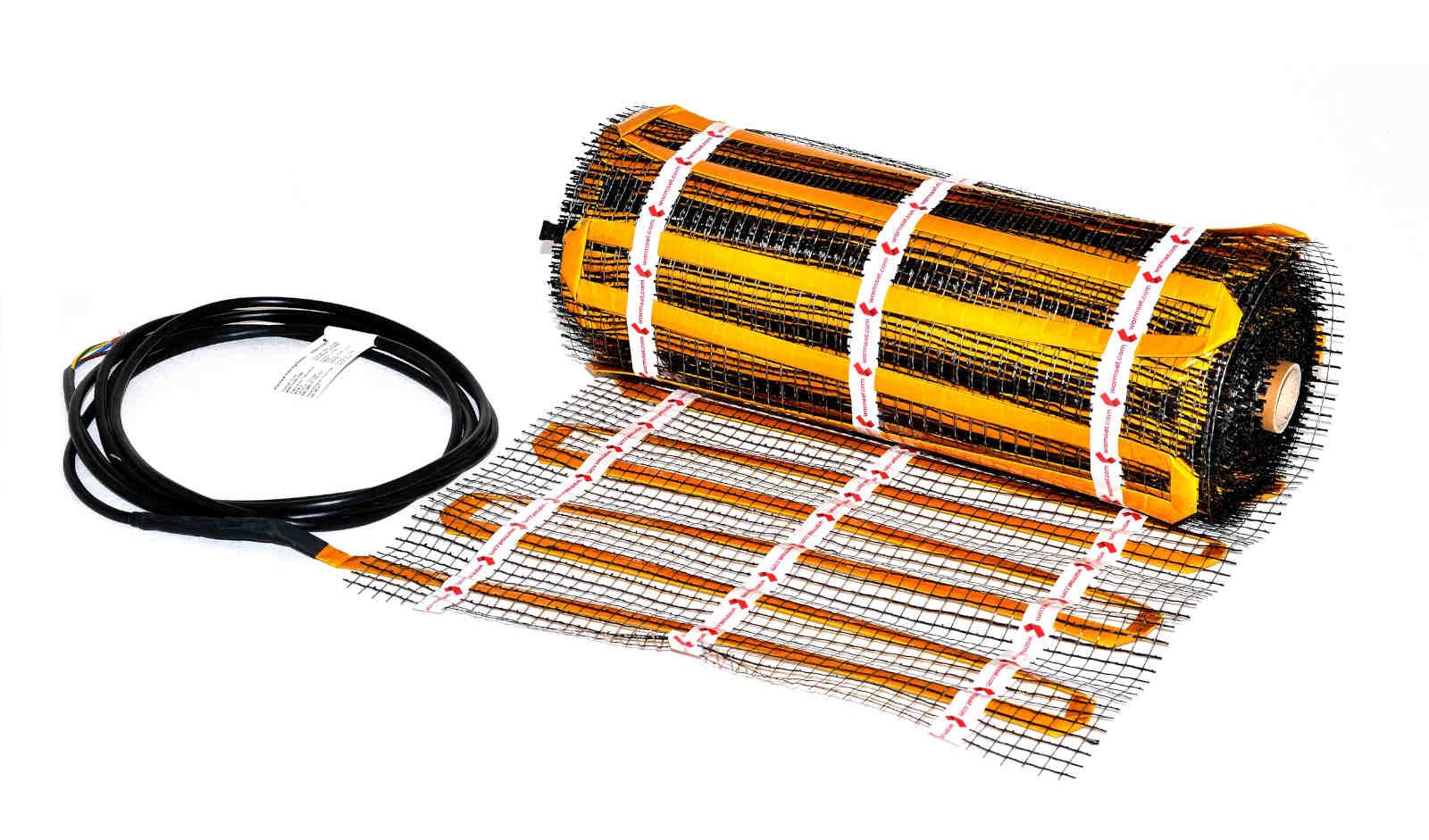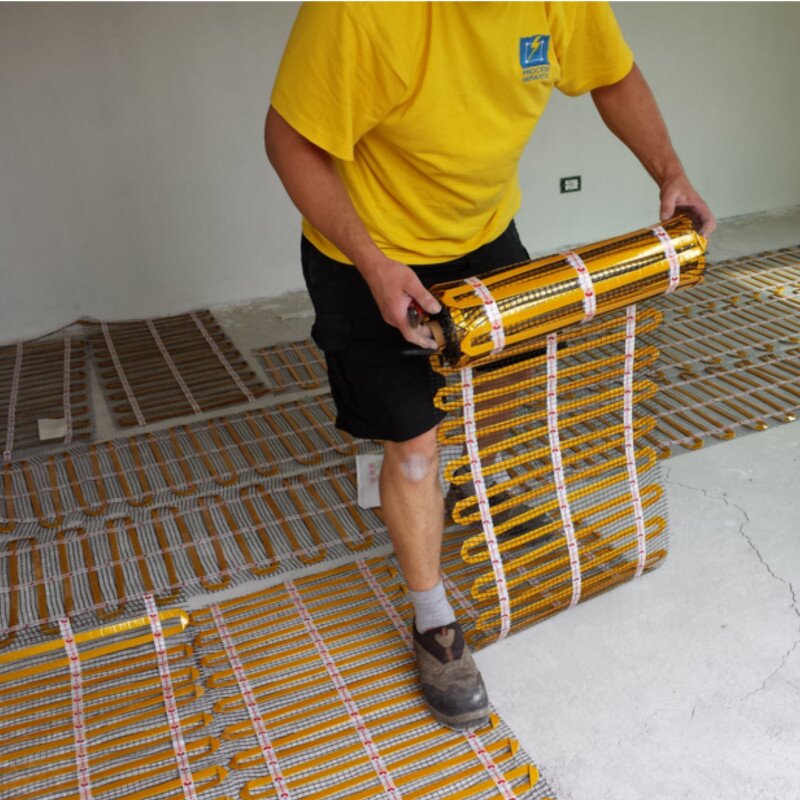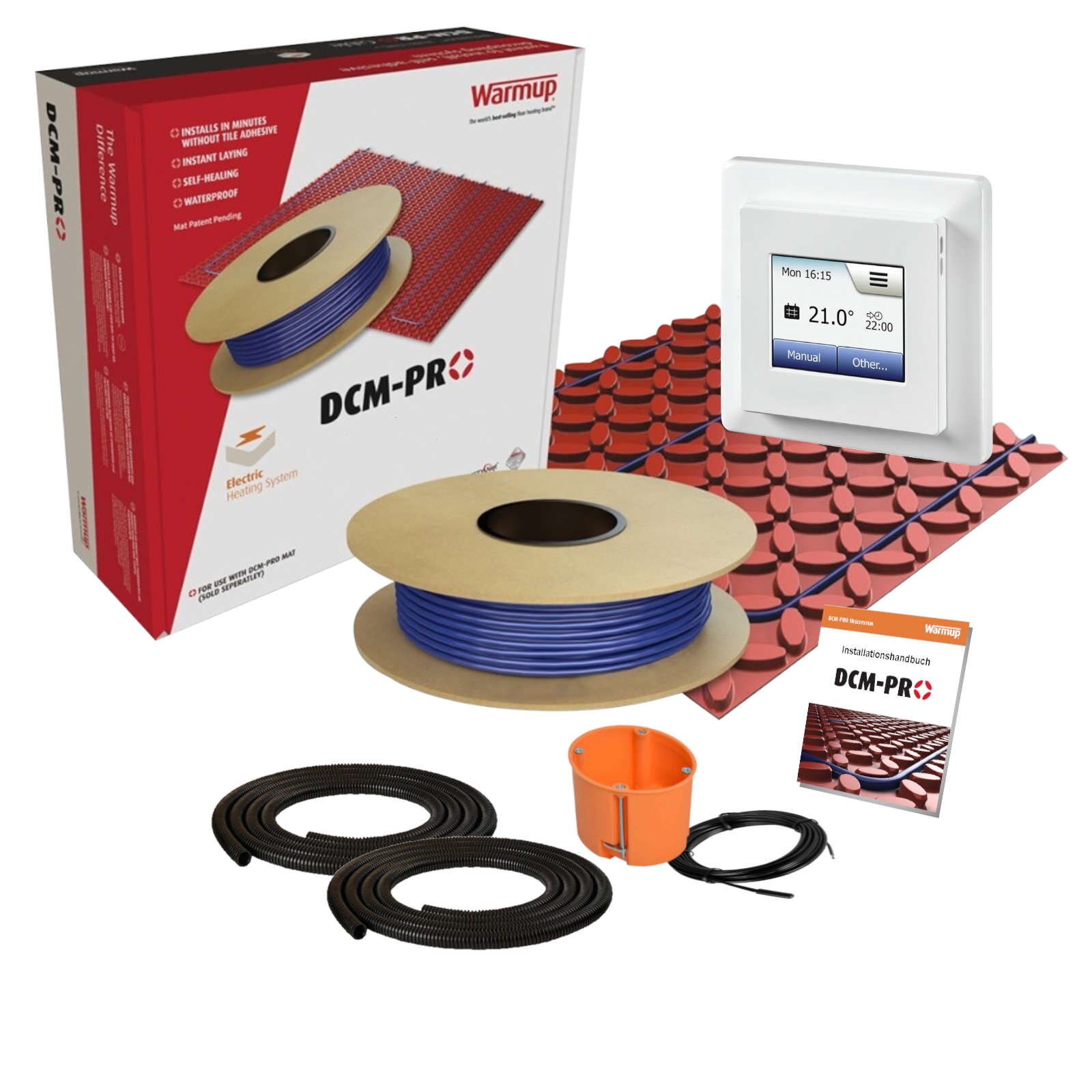 Warmup DCM-PRO - decoupling and underfloor heating in one system
Older properties in particular are often equipped with wooden floorboards and require decoupling from the new floor covering due to the resulting subfloor movements. Otherwise there is a risk of cracking or breaking open in the newly laid floor.

This is where Warmup's DCM-PRO heating system scores, combining decoupling and electric underfloor heating. In addition to the self-adhesive, permanently elastic decoupling mat made of polyurethane, the DCM-PRO heating system range also offers the matching sealing tape, inner and outer corners, as well as twin heating cables in lengths from 11 to 177 metres. 

When installing the DCM-PRO system, the room in question is first prepared completely like a trough with the adhesive corners and the sealing tape. Then the subfloor is fully covered with the decoupling mat so that the liquid levelling compound applied later does not seep between the wooden floorboards. The DCM-PRO Twin heating cable is then laid in the honeycomb structure of the decoupling mat with a loop spacing of either 60, 90 or 120 mm, before the levelling compound itself is finally applied. 

All floor coverings that have been approved for use on underfloor heating can be installed on the level subfloor created in this way.
Pro
+ Decoupling and underfloor heating in one step
+ Saves time and costs
+ very flexible design of the heating conductor possible
Contra
- required installation height of at least 11mm + floor covering

Perforated 24V heating films for tiled and glued floors
Heating films are among the thinnest heat sources on the market. The material thickness here is just 0.4mm and allows installation even under the most restricted space conditions.
The perforated carbon fibre heating films are provided with a thin fleece lamination, which creates an excellent adhesion to tile adhesive or solvent-free spray adhesive. This makes this solution of electric underfloor heating ideal for tiled floors made of porcelain stoneware, ceramic tiles or marble, as well as bonded floors with vinyl or parquet.
For standard reasons, however, only heating films with an operating voltage of max. 25V alternating voltage (AC) or max. 60V direct voltage (DC) are permitted in wet rooms. In other rooms, perforated heating films with a higher operating voltage can be installed. In addition to the installation option on the floor, these heating films can also be installed as wall or ceiling heating. 
The
perforated low-voltage heating films
are available in various widths and lengths and with different heating outputs. For tiled floors, a heating output of 150 to 200 watts per square metre is recommended. For glued vinyl or parquet floors, 100-150W/m² should be calculated.
For such a solution to serve as the main heating for the room, at least 70 % of the floor area should be covered with heating film. The transformer must be dimensioned depending on the number of square metres of heating film and its selected heating power. It is important to ensure that the transformer is never permanently operated at 100 % load, but that a buffer of about 10-15 % is always calculated. 
Calculation example:
4m² of laid heating film with an output of 150W/m² result in a total power consumption of 600 watts. The transformer should therefore be able to provide around 700 watts. 
When installing the heating films, the substrate should first be covered with a thin layer of tile adhesive or spray adhesive (depending on the desired floor covering). Then the individual sheets of heating film are laid down and pressed on, e.g. with a pressure roller (hand roller).  This is followed by another layer of the respective adhesive and the floor covering.
Note:
Thin floor coverings, such as vinyl, distribute the supplied heat only to a limited extent due to the low material thickness. For this reason, areas with fully supported furniture or objects with a diameter greater than 6 cm should either be left out or the objects should be placed on small furniture feet. Otherwise, heat may build up and damage the floor covering, the objects or the heating element.
Pro
+ Very low installation height
+ particularly even heat distribution
Contra
- Additional space required for the transformer
- Furniture or other objects may need to be fitted with furniture feet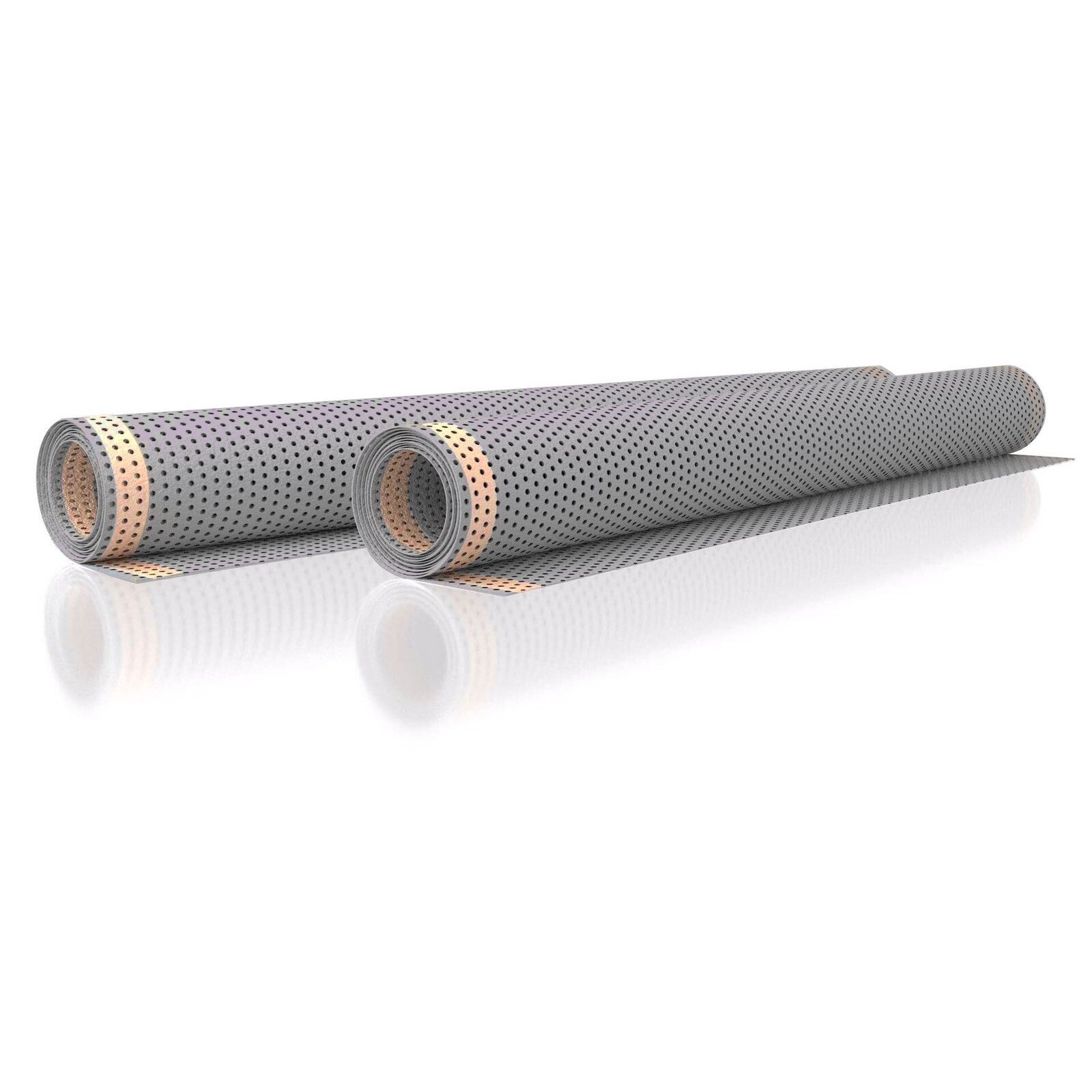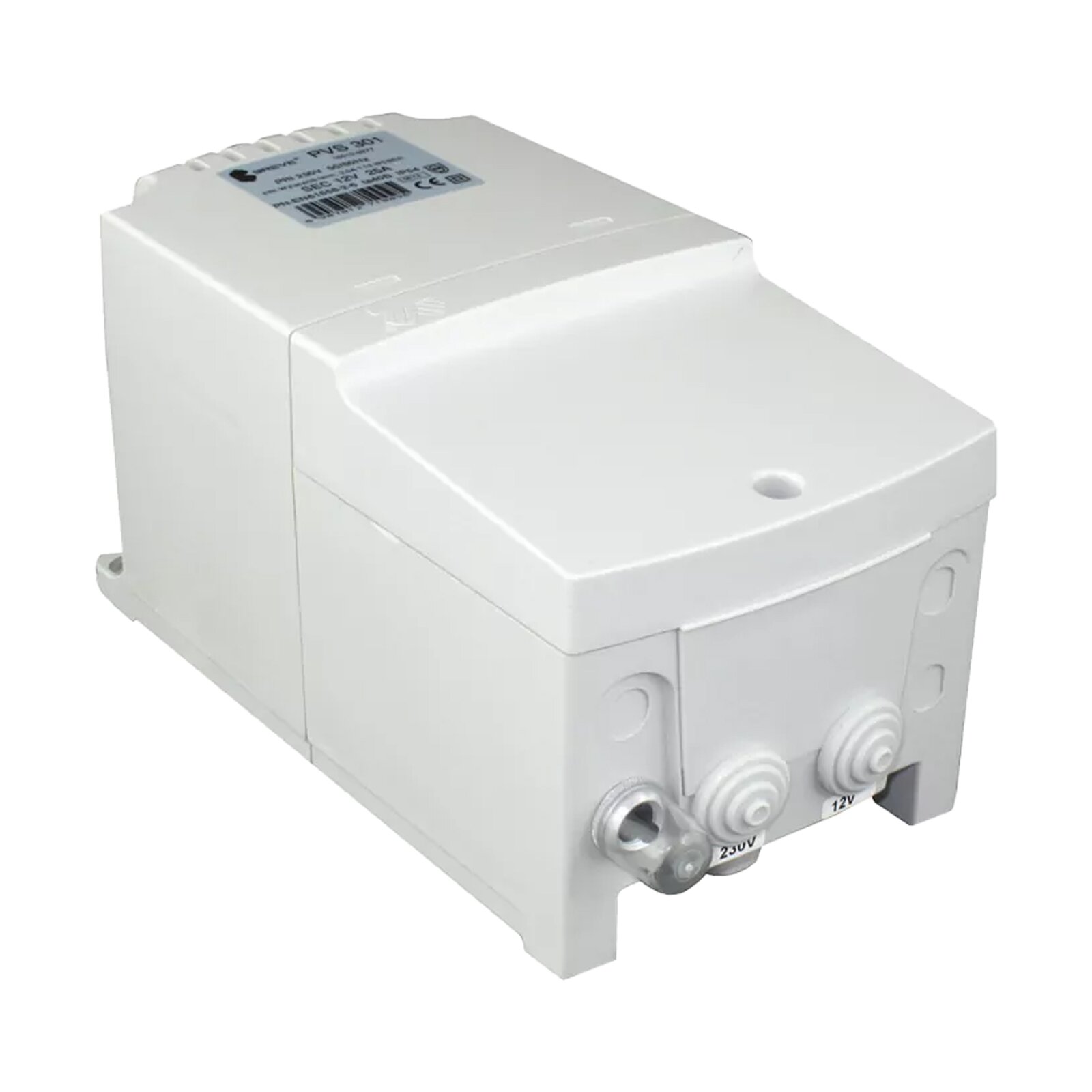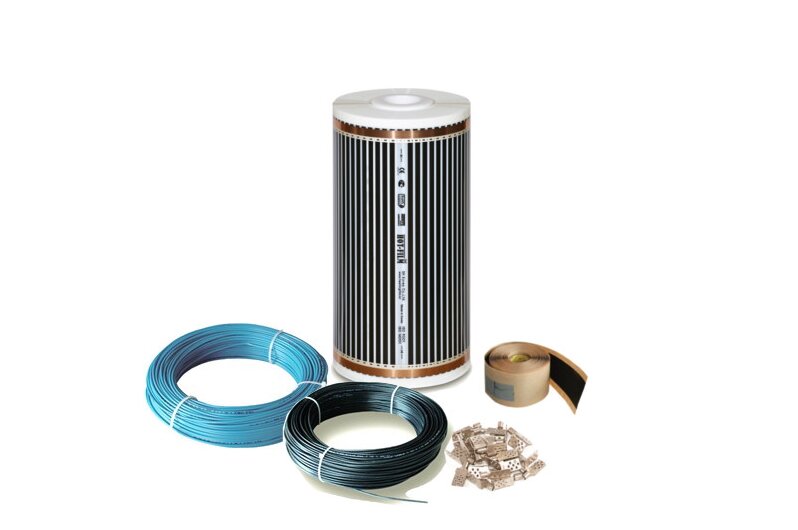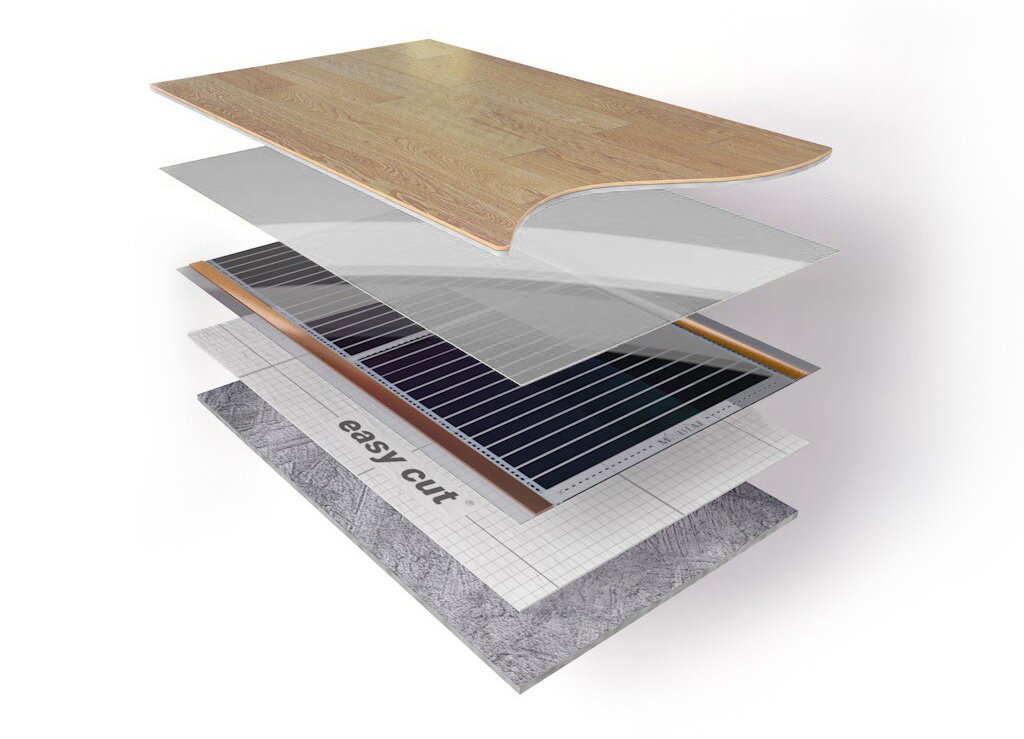 24V heating film for floating floor coverings
Similar to the application described above, electric underfloor heating is installed by means of heating film under floating floor coverings. Easy-care click vinyl floors or parquet floors suitable for wet rooms are extremely popular, especially in bathrooms.  

With floating floor coverings, impact sound insulation is first laid on the subfloor. For this purpose, there are heating film underlays specially adapted to electric underfloor heating systems, which combine the properties of a commercially available impact sound insulation, a vapour barrier and good insulation. An additional aluminium vapourisation of the heating film underlay acts like a heat reflector and ensures the best possible efficiency of the system. The correct thickness of the heating film underlay depends on the floor covering chosen. For example, if a thin vinyl floor made of solid material is chosen, a maximum of 1.5 mm heating film underlay may be installed. Otherwise, too high a pressure load can cause the click connections to break. For more stable floor coverings such as vinyl on HDF carrier or laminate, a 3 mm or 5 mm thick heating film underlay can be used. This also offers the advantage that the connection cables of the heating foils can be fully accommodated.

The individual strips of heating films are then laid above the heating film underlay and covered with a thin PE foil (AquaStop foil). This additional layer provides further protection against moisture and at the same time reduces the friction of the floor covering on the heating films. Finally, the floor covering is laid on the structure.

Here, too, it should be noted that objects lying on top (larger than 6 cm in diameter) should be raised with furniture feet, if necessary, to avoid a build-up of heat.
Pro
+ Very low installation height
+ particularly even heat distribution
Contra 
- Additional space required for the transformer
- Furniture or other objects may need to be fitted with furniture feet
Control and thermal monitoring necessary
The floor coverings are often approved by the manufacturers for heating systems with a maximum temperature of 27 to 28 °C. It is therefore necessary that all aforementioned heating solutions are operated with a suitable thermostat. 

The thermostat ensures thermal monitoring by means of an external floor sensor and also ensures that the floor temperature is limited to the maximum temperature specified by the floor covering manufacturer.

We recommend always installing the external floor sensor in an corrugated pipe so that it can be easily replaced in the event of a defect. If the existing installation situation does not offer the possibility of laying an corrugated pipe, a second floor sensor can also be installed as a reserve for safety reasons. Suitable replacement sensors are listed in the thermostat accessories in our online shop.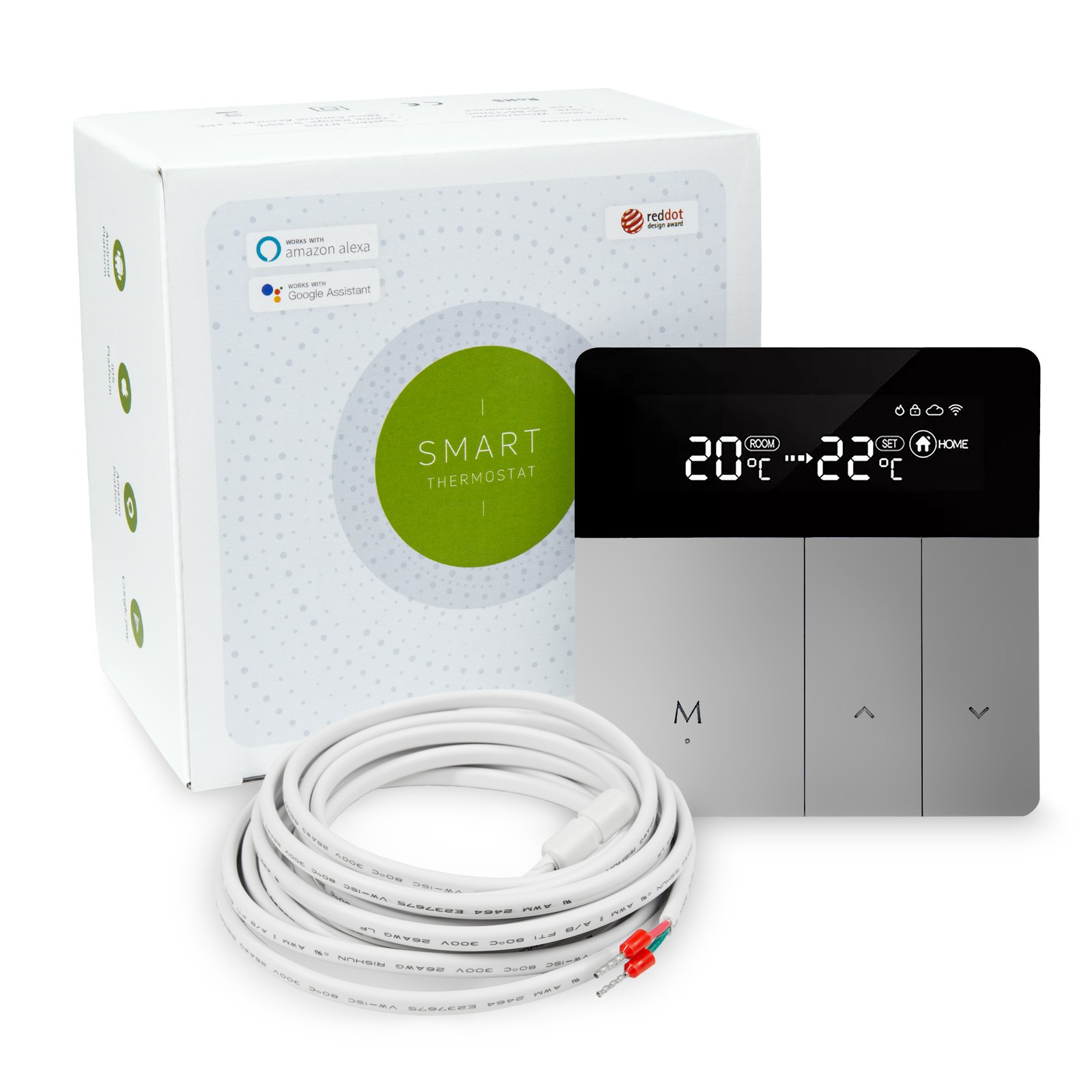 Are you also planning electric underfloor heating and still have questions? We will be happy to help you.
x
Please sign in to write a comment.