Install outdoor heating systems now: Use the warm season to prepare
Efficient deicing systems for more safety and comfort in winter
Fortunately, we have now left the cold and frosty days behind us for the time being. But one thing is certain: next winter, snow and ice will once again turn many a staircase or driveway into a real slippery slope. 

But there are ways to get through the winter safely without having to constantly shovel and spread snow. With so-called deicing systems, which are electrically operated, the desired areas around the house can be kept free of ice and snow at all times.  With the help of intelligent control systems, heating takes place according to demand, which enables efficient and economical operation. 

And precisely now, when all surfaces are nice and dry and easy to work on, is the right time to install such outdoor heating systems.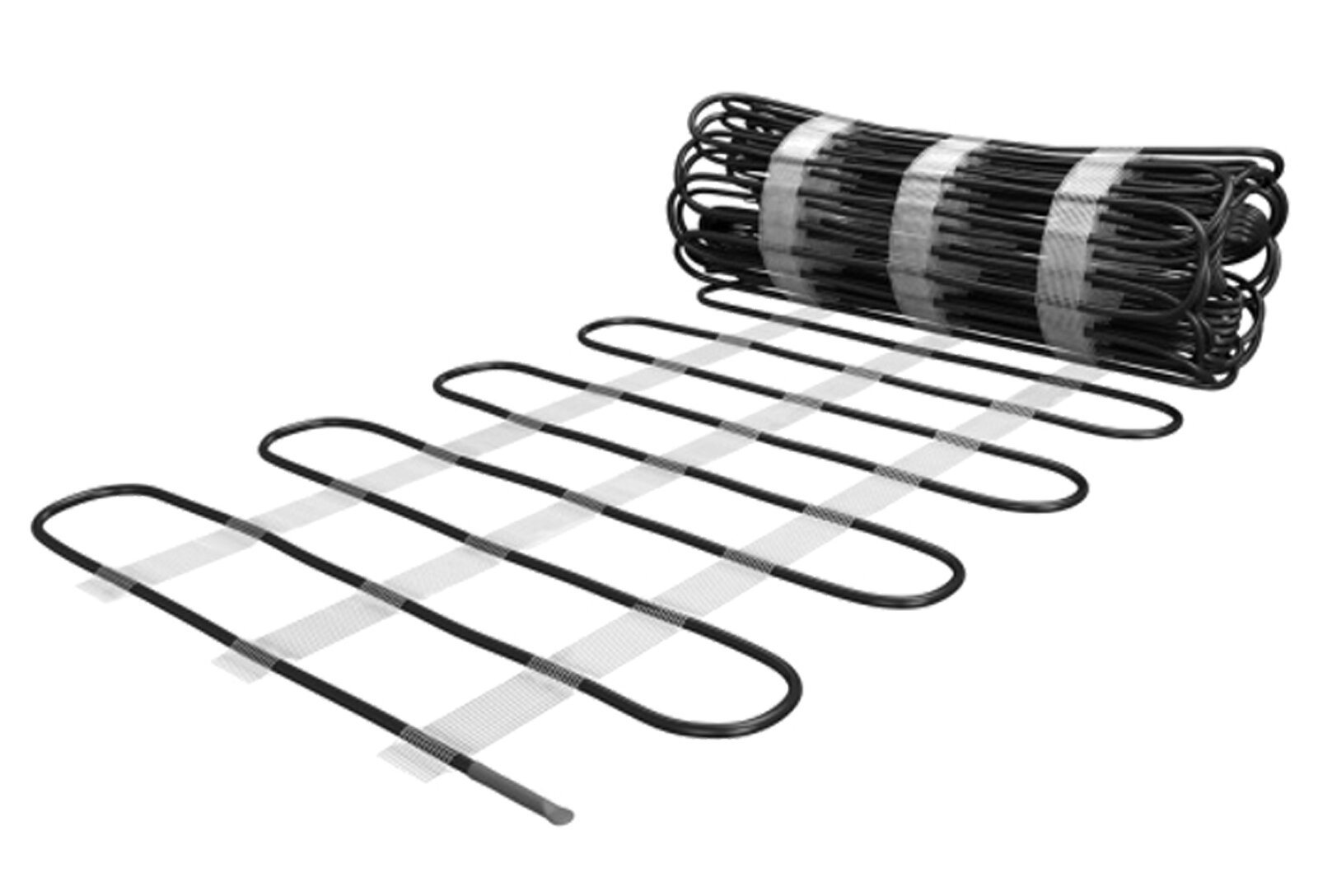 Mi-Heat outdoor heating mat, 300W/m²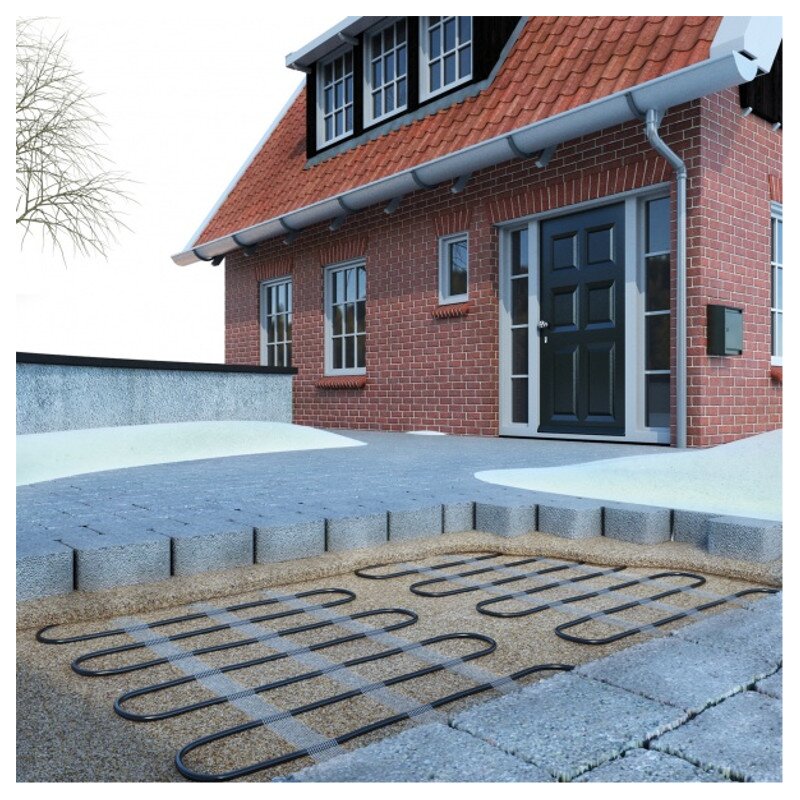 outdoor heating mat in sand bed under paving stones
True all-rounders: the areas of application are diverse, whether used privately or commercially
All areas in which personal injury and material damage due to ice and snow are to be prevented are potential areas of application for deicing systems. In addition to the classic ground areas such as pavements, stairs, car parks and loading ramps, the heating of roof areas is also a frequent area of application. For example, roof valleys or eaves can be equipped with outdoor heating systems to protect residents, hotel guests or passers-by from falling snow or icicles. Therefore, outdoor heating cables and mats are not only used in the private sector, but also frequently in commerce and industry, for example on loading ramps.

In addition to the reduction of possible accident hazards, there is another important factor, because municipalities, businesses and house residents are spared the annoyance of clearing snow and ice in winter. The absence of salt, grit and sand also protects the environment as well as the building fabric and eliminates the need for costly cleaning and disposal work, as grit is no longer carried into the building via the shoes. So it's clean all round!
Electronic controls for effective and economical heating operation
An efficient control system for electric deicing systems is characterised by the fact that it always activates the heating only when icing is expected. Heating then continues until the open-air surface is completely defrosted and free of moisture, so that repeated freezing of the surface does not occur. This operating principle also avoids unnecessary power consumption.
The most important element of this control is a combined temperature and humidity sensor, which ensures fully automatic and energy-saving operation of the outdoor heating system.  The local conditions are decisive for the positioning of the sensor. If only one sensor is used, it should be positioned at the point where icing is to be expected first. A more precise monitoring is given with two sensors, which should be exposed to different operations. For example, it makes sense to position one sensor on the south side with sunlight and the other sensor on the north side with longer periods of shade.  Laying the connection cables in empty pipes is particularly recommended so that in the event of any damage, there is no need to remove the upper covering.
The control unit is ideally installed in the existing sub-distribution of the house or in a separate distribution box. All relevant measured values such as floor and air temperature, degree of humidity and the switching status of the open-space heating can be read off the integrated display. In larger systems, several fuse circuits are often required, which are then jointly controlled via downstream power contactors.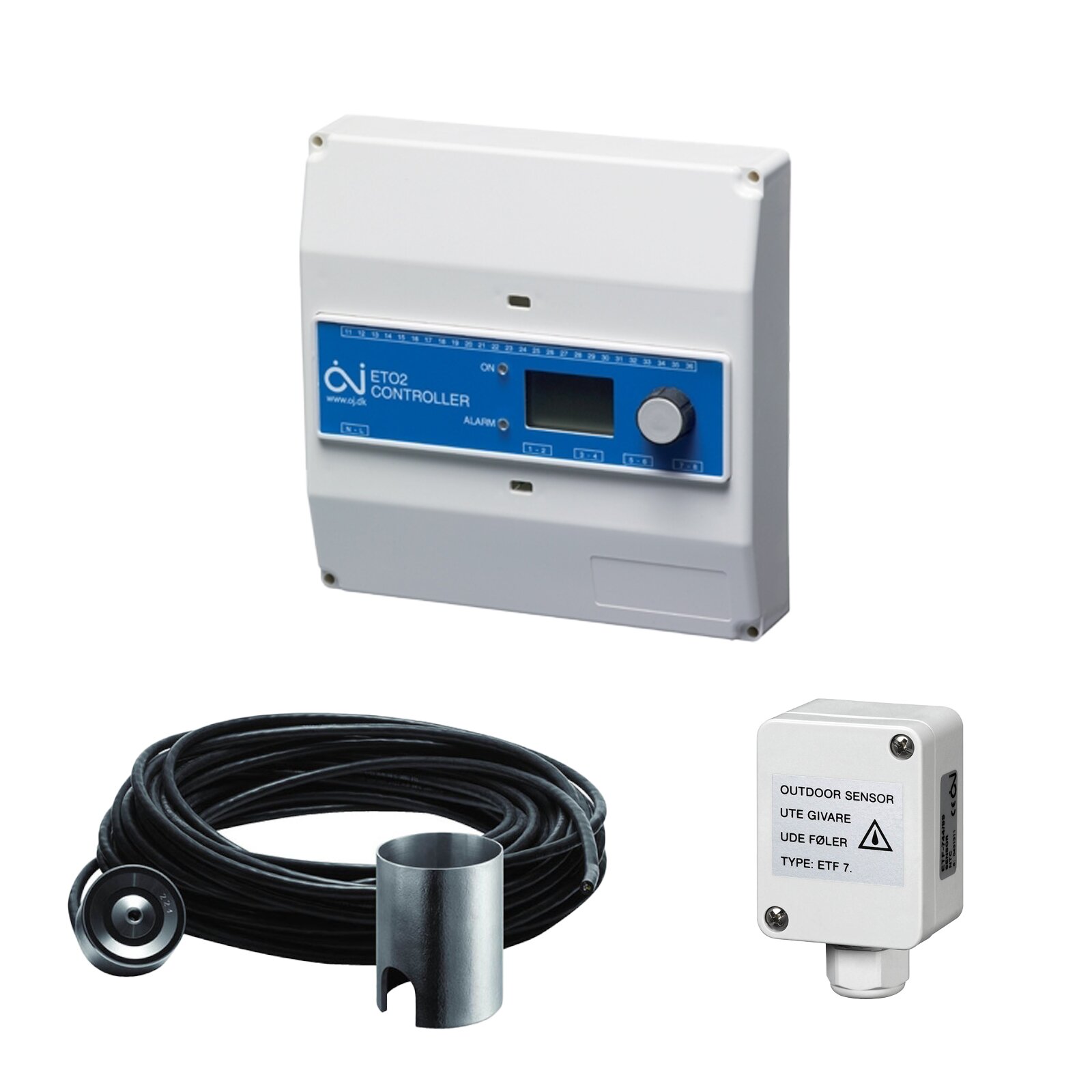 ETO2 control with floor sensor and outdoor sensor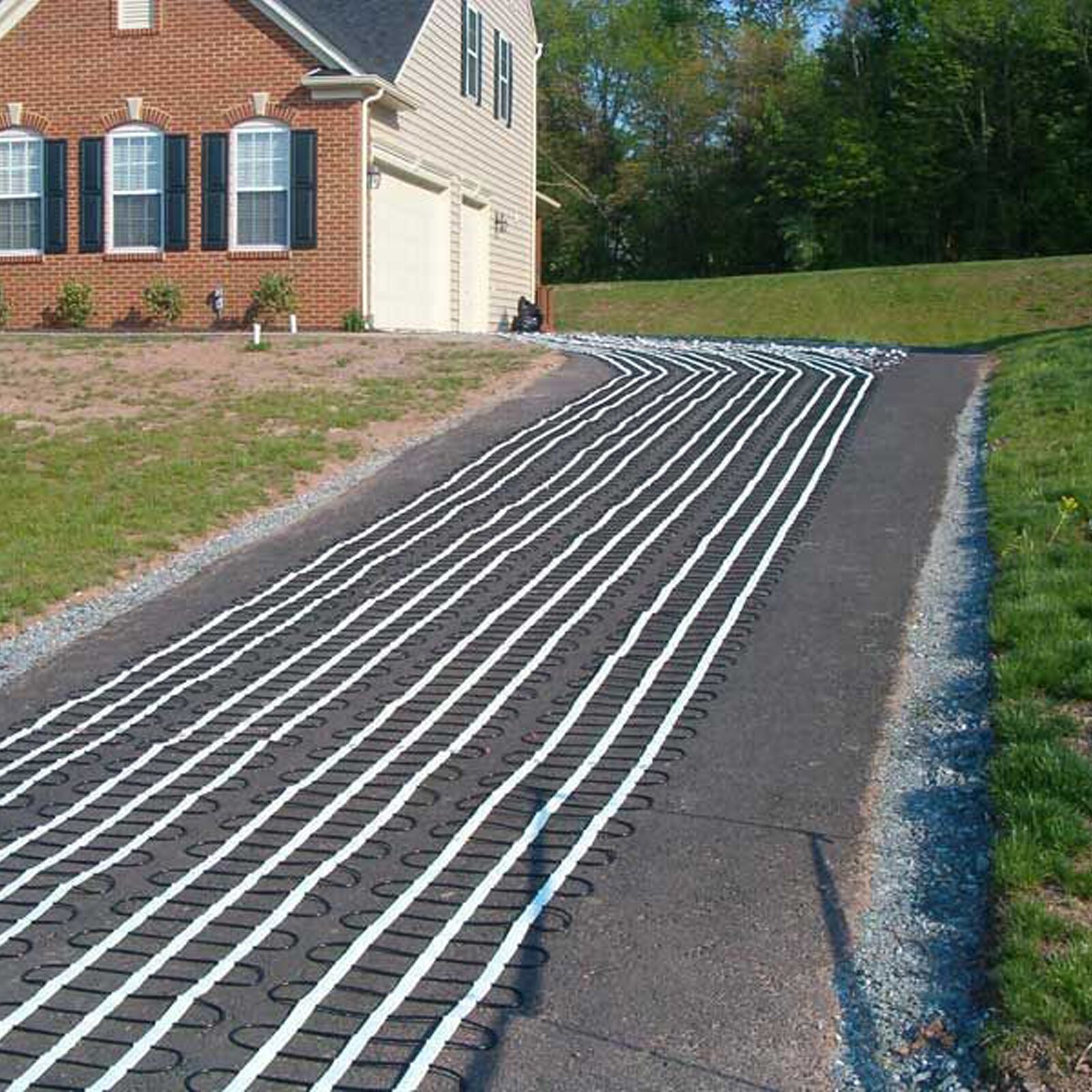 Heated house driveway with slight slope
Outdoor heating mats and cables are quick and easy to install and require no maintenance whatsoever
When installing an outdoor heating system, care should be taken to ensure that these heating conductors are laid at a small distance from each other and close under the surface of the covering.  The heat always spreads in a circle around the heating conductor, so the distances should be chosen so that an even defrosting process results. With a heat output of 30W/m, a heating conductor spacing of approx. 10cm is to be expected. Prefabricated heating mats are often an ideal solution here, as the heating conductors are already attached at the correct distances on a hard-wearing fabric. The heating mats can thus be rolled out quickly and easily on the desired surface.
Paving slabs or stones
Driveways and paths on private property are often covered with paving slabs or paved with stones. In order to free these surfaces from snow and ice in winter, the open space heating is usually installed in a layer of sand on the gravel bed. This is followed by another layer of sand or mortar, at least 2 cm thick, and finally the top layer.
Screed coating
In the case of an outdoor area to be heated with screed as the top layer, the heating system is first laid and fixed on the concrete base.  A thin coating of the concrete base with cement slurry ensures better adhesion of the screed. Finally, the outdoor heating system is covered with a layer of screed about 30 to 60 mm thick. It is important to ensure that the heating conductors are not routed through expansion joints. The connection lines should also be protected with a protective pipe in these areas.
Mastic asphalt surfacing
The construction of an open area with a mastic asphalt surface is similar. This solution is often used, especially in multi-storey car parks, to enable vehicles to enter and exit safely at all times. First, a layer of asphalt about 25 mm thick is applied to the existing surface.  After it has cooled down, the open-air heating system is then laid and fixed in place. In the last step, a second layer of asphalt with a thickness of about 30 mm follows.  However, due to the high temperatures during the application of the asphalt, appropriately resistant mastic asphalt heating systems must be selected.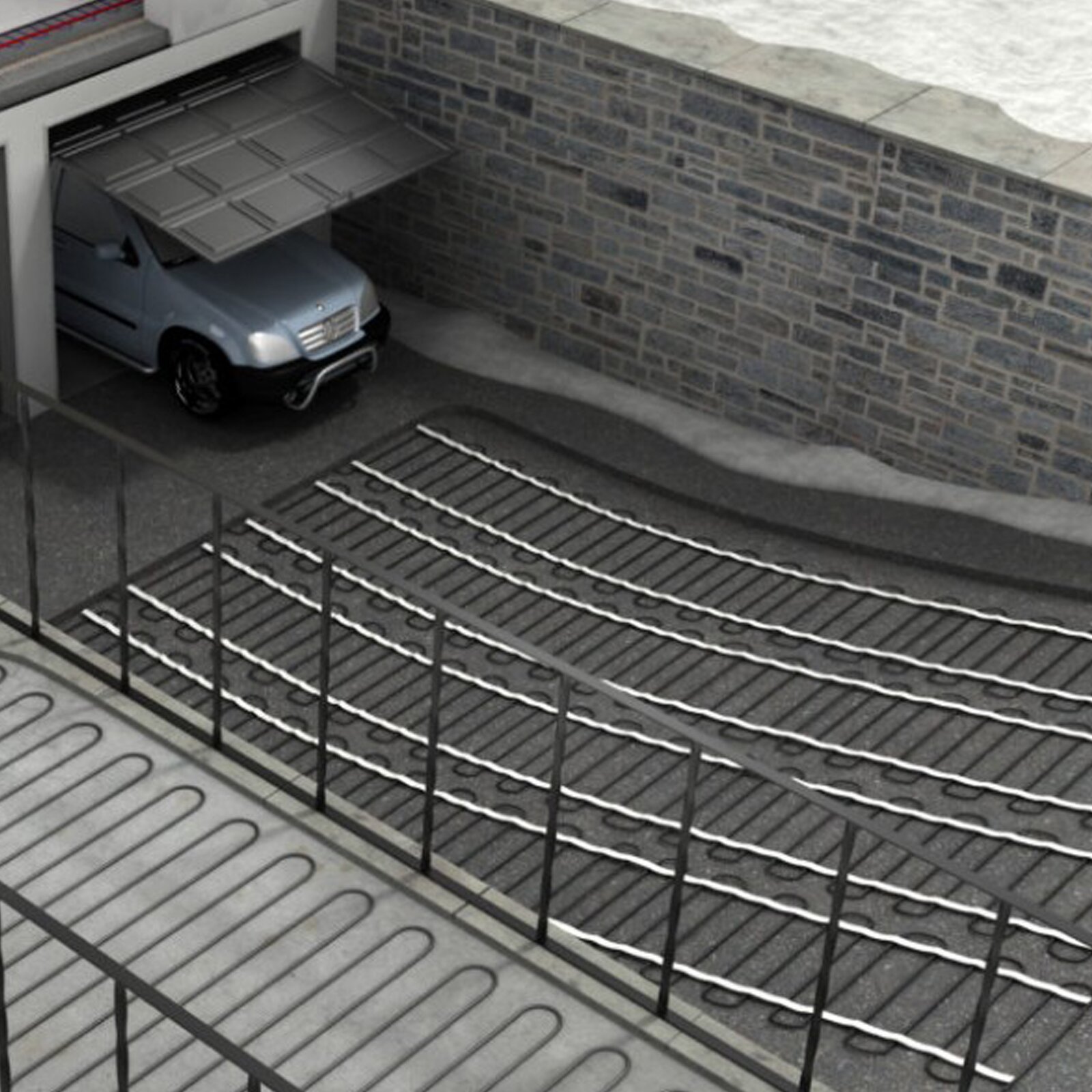 Ice-free and safe access to the underground car park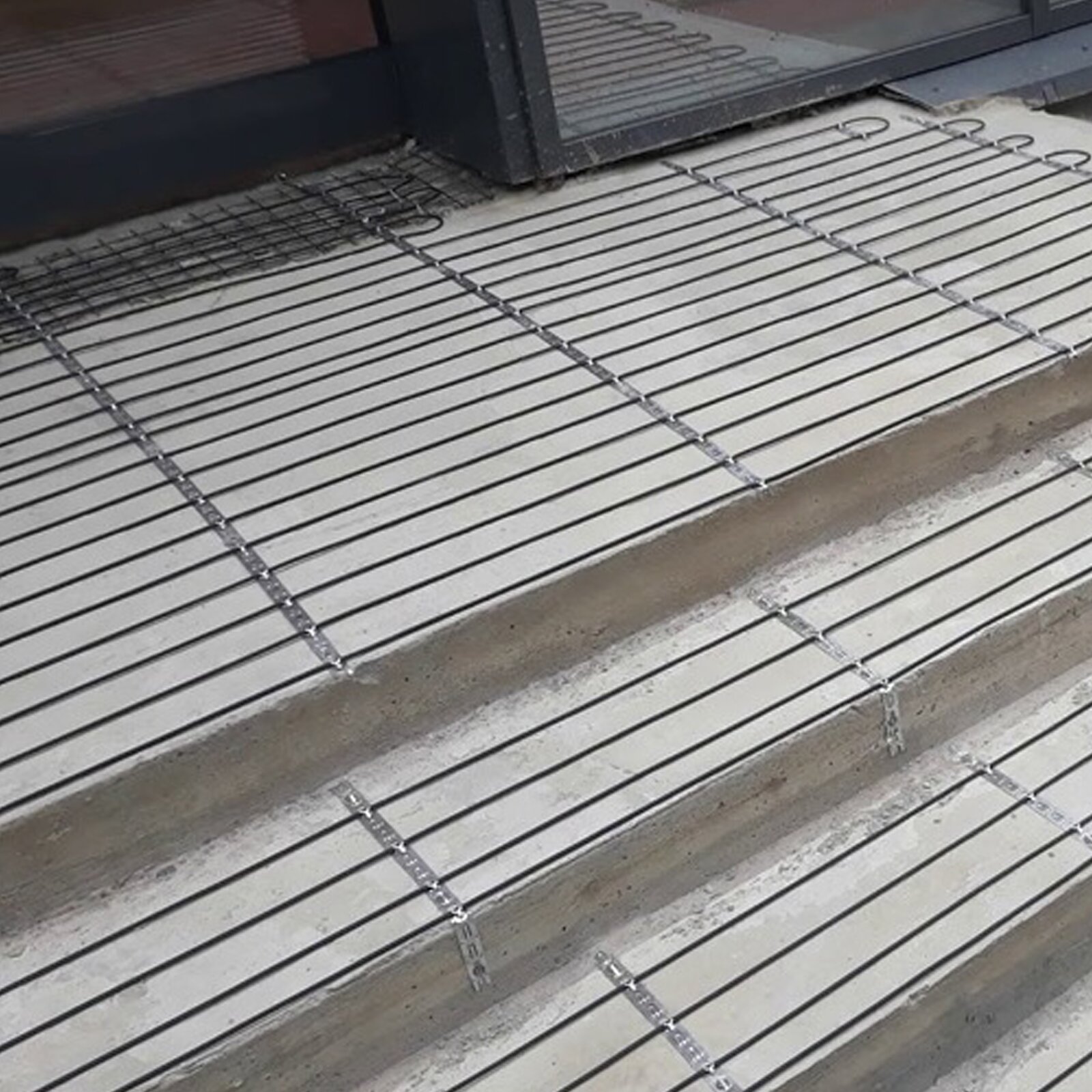 Outdoor heating cable 30W/m on a public staircase
Concrete surfaces
Heating concrete surfaces requires particularly robust heating mats or heating cables that can withstand the mechanical loads. Individual heating conductors are usually fixed directly to the reinforcement with cable ties. If heating mats are used, they should be fixed to the support fabric. Then the concrete is filled according to the structural requirements. The top of the open-space heating should then be covered with concrete for about 20 to 50 mm.

Staircase heating
Staircase heating systems have the special feature that comparatively small partial areas often have to be equipped. For a flexible design, the use of free-form heating cables is therefore particularly suitable, which are either mounted on special mounting strips or embedded in milled grooves. Special attention must be paid to the required bending radii of the heating cables. The heating loops should extend to the edge of the steps, as the risk of slipping due to ice formation is greatest in this area. 

The installation is carried out in the protective screed or mortar between the lowest concrete layer of the stairs and the upper covering. When selecting the stair covering, the following applies: The smaller the covering of the heating cables, the shorter the heating time. A covering of more than 8 cm is not recommended. Installation close to the surface also reduces the energy consumption of the systems.
What operating costs can be expected?
In practice, a specific heat output of 300 W/m2 has become established for such heating systems. The outdoor temperature conditions at the respective location are a decisive factor for the consumption, so around 50 to 300 operating hours per year can be expected. 

When using an electronic control system with ice and snow detector, an annual energy consumption of 20 to 50 kWh/m2 of heated surface can be approximately expected. *

* Consumption varies depending on many factors such as location, outside temperature, wind strength, amount of snow/ice, installation position, top surface, etc. The data are therefore only approximate guide values for which no guarantee can be given.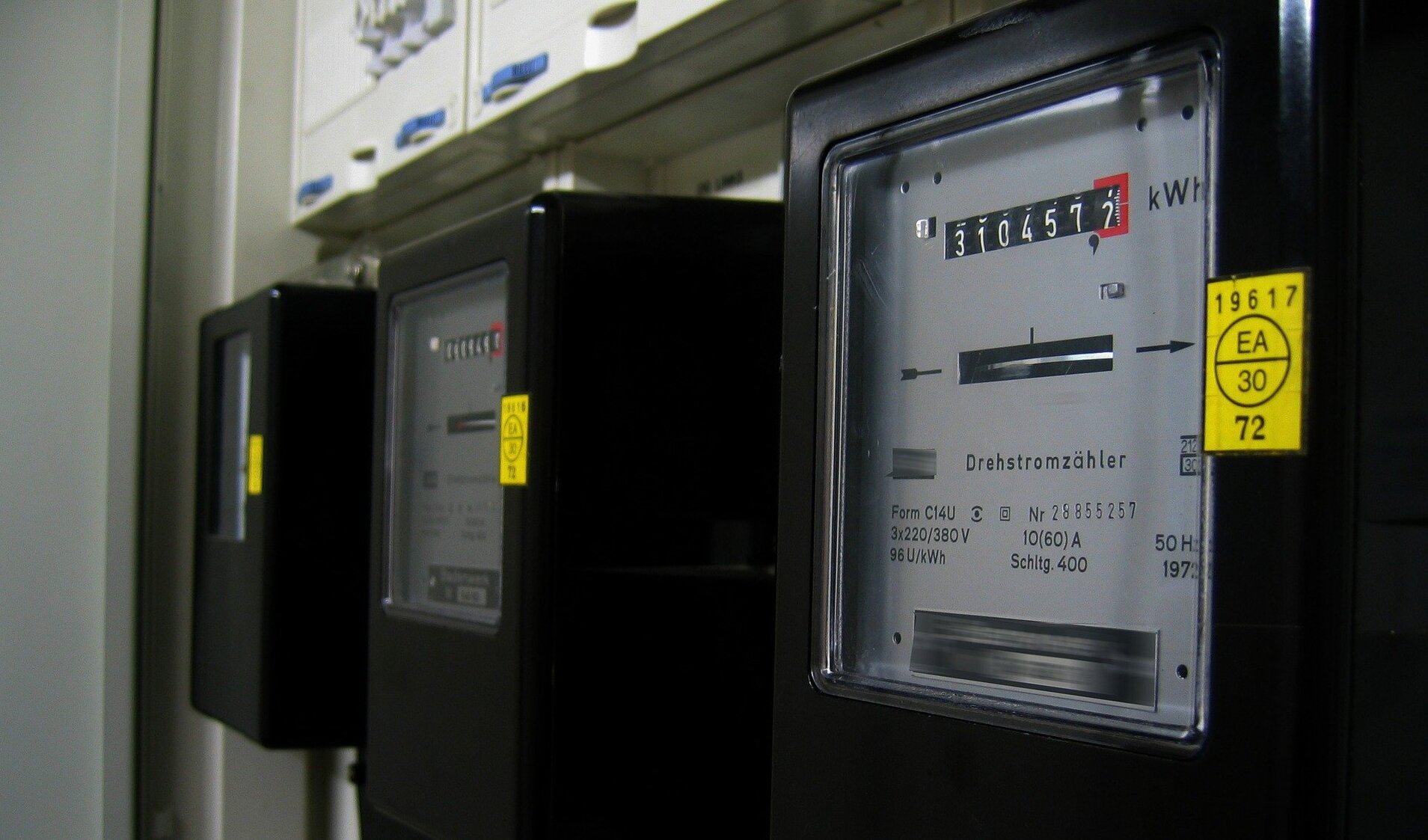 Our product recommendations:
Do you still have questions? We will be happy to help you.
x
Please sign in to write a comment.